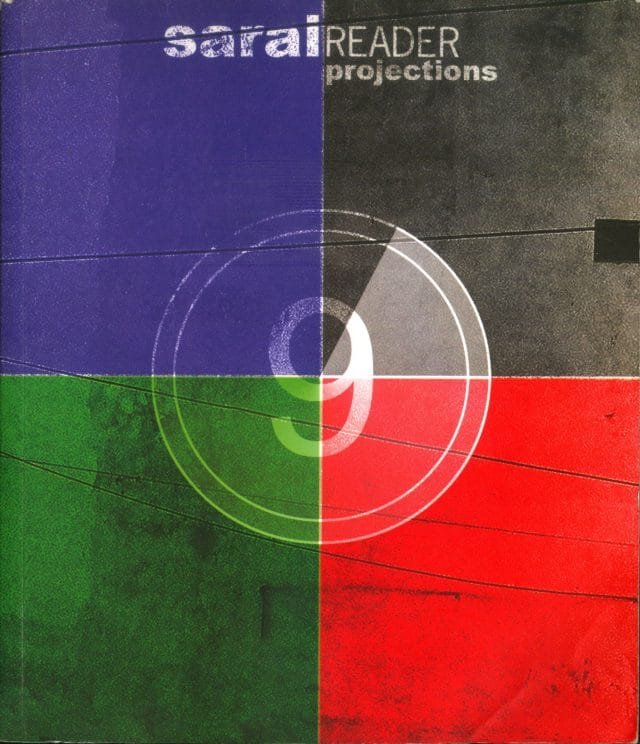 The entire book can be accessed and downloaded from the Sarai Archive.
A projection always involves an incandescent transference, some crossing of a void or darkness to effect luminous landings on a distant surface. Without projections, we would have no cinemas, no city plans, no forecasts, no wagers, no fantasies. Projections convect questions, magnify dreams and illuminate desires. Sarai Reader 09: Projections translates this imperative to act as a transport of illumination to build an axis of central questions…
Projections operates across two surfaces at once: on the printed page of this book (the ninth and final publication in the Sarai Reader series) and within the context of the contemporary art exhibition titled, 'Sarai Reader 09: The Exhibition'. The exhibition and all the processes that arose within it anticipated the book's concerns through an occupation of time, space and attention over a nine-month-long duration at the Devi Art Foundation, Gurgaon.
Projections is not a catalogue of the exhibition at the Devi Art Foundation. Nor is 'Sarai Reader 09: The Exhibition' a curated illustration of the concepts advanced by the book. Rather, the publication and the exhibition act as adjacent platforms from which new ideas and concepts, discursive as well as aesthetic, set off as travelling companions and find their separate yet occasionally converging itineraries.
This book is a roadmap of that journey.
Production
Edited by: Raqs Media Collective and Shveta Sarda
Assistant Editor: Shyama Haldar Kilpady
Design: Pradip Saha / Damage Control
Design intern: Nirmal Singh
Cover image: Anisa Rahim
Back cover image: Chandan Gomes
Section separators: Pradip Saha