All, Humans/ꕉꕜꕮ ꔔꘋ
Distributed video sculpture with variable pixel pitch LED, steel structures, 3D and 2D environments drawn from the Vai language syllabary, electric shamiyana patterns, and Article 1 of Universal Declaration of Human Rights
School of Linguistics and Cultural Studies, Goethe University, Frankfurt (2023)
All, Humans builds itself from uniquely human faculty of language to construct conceptual categories that transverse the human condition. It arcs out like a canopy – suspended between a multiplicity of minds, hearts and hands, sheltering and anticipating the universal human aspiration and claim for freedom, equality and dignity. These claims are always encoded and expressed in language, but they also lie hidden in dreams. They find a hearing in conversation, they move from one speech to another in translation, at all times forming and being formed by human experience, in perpetual movement.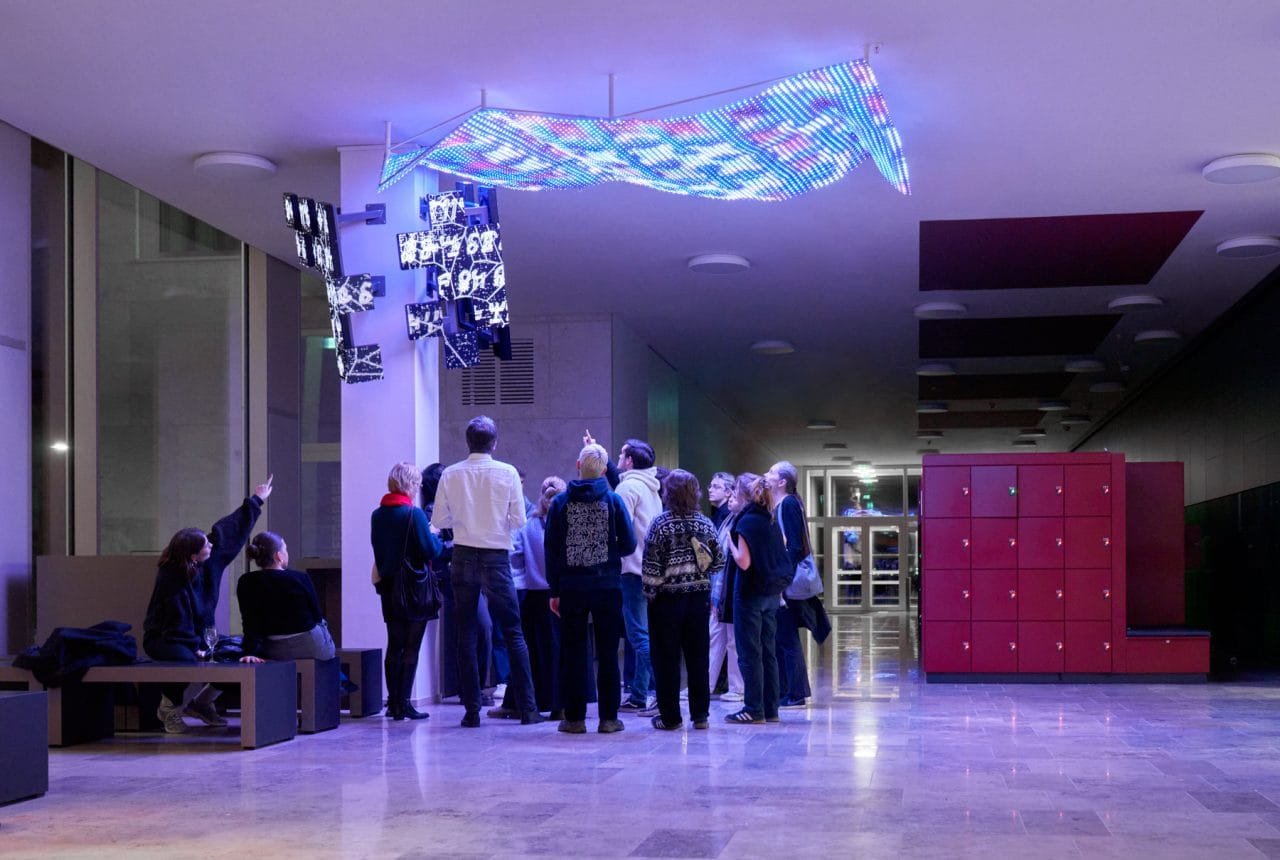 The Vai language, spoken in West Africa, is deeply entwined with the history of the peoples who were subjected to the cruelty of the transatlantic slave trade. The script of the Vai language was formed from 1833 onwards by Vai speakers who began seeing the characters of its alphabet in dreams. This transition from orality to text marks a threshold between unwritten norms and codified forms. It is also a language that carries with it the history of bondage and liberty. This, too, is the impulse of the post-Second-World War drafting of the UDHR. Here, the First Article, written in the Vai language, moves through the word-structures made of LED modules – equal (téngá), spirit (zu zu), all (kpéé) human (mo kéndé) – in a joyous, whimsical and contemplative procession, igniting in equal parts bafflement and curiosity, and the invitation to know the unknown, and the untranslated.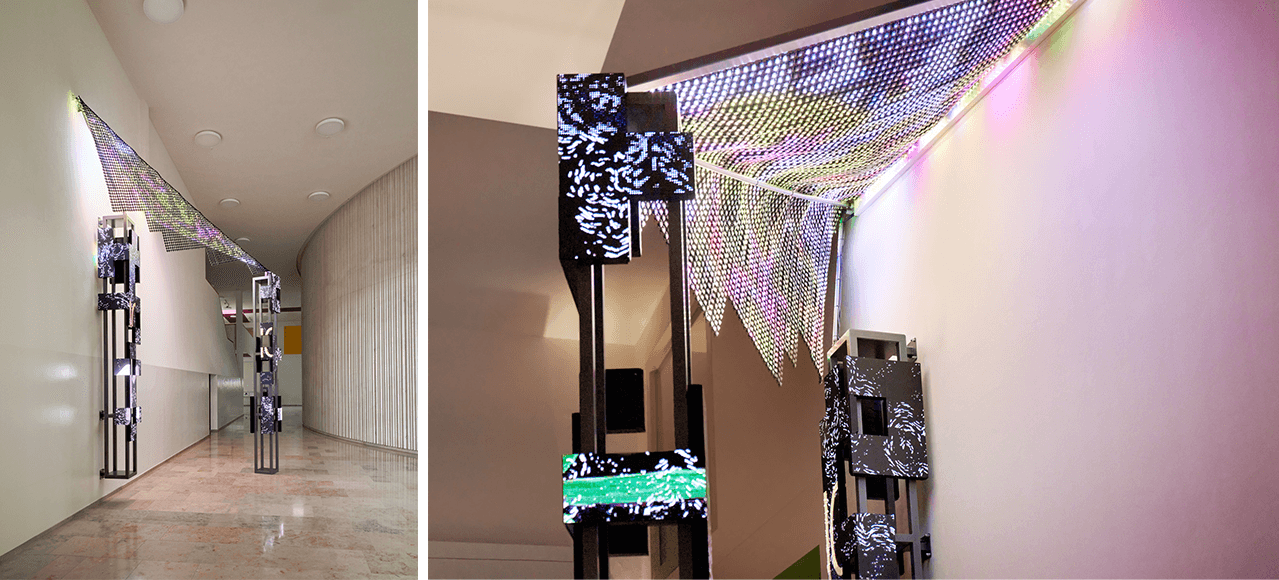 The suspended electric canopies rising above the sculpture structures, invoking the tradition of colorful tents – 'shamiyanas' – in South Asia, are poised to anticipate, animate and shelter occasions of gathering. These canopies unfurl whenever humans congregate: for celebration, for feasting, for conversation and poetry, for music, for mourning or protest, in the city of Delhi, where the artists, Raqs, live and work. The digital patterns take their cue from shamiyana patterns. Like the method of the patterns, these too are made with a patchwork of fragments from diverse digital materials that join together and come apart to create a dance scored by debris, default, and delay. The utterance of each moment finds its own dimension in the unfolding of the work, like a word finding breath, linking with another word, and another breath.
All, Humans demands a willingness to listen to what we don't understand, to become aware of the illegible and the unreadable, as part of living itself. It is a step that strangers can and must undertake, with each other, as they expand into the capacity of human association.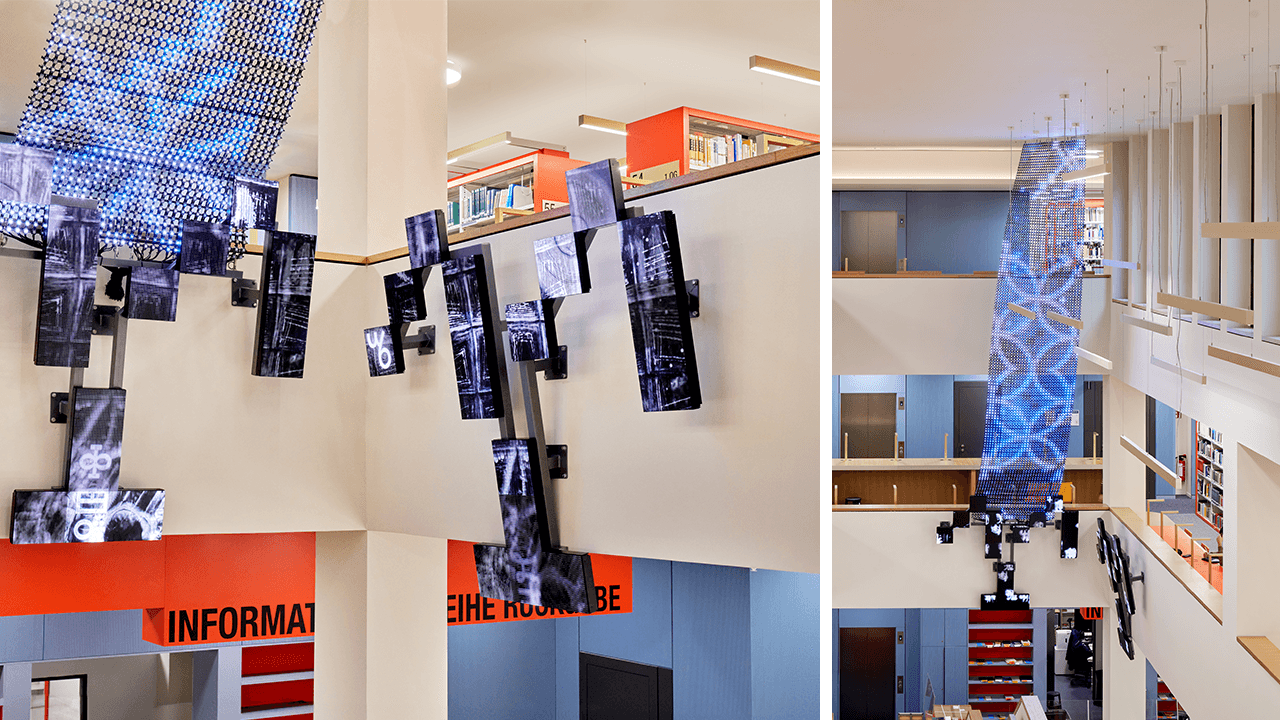 3D Environments: Jaidev Kabo, Shamsher Ali ; 2D Environments: Moomal
Glasswork: Muveen Khan ; Drawings: Monica Narula
Video Editing: Rajan Singh ; Video Colourist: Pradeep Gosain
Video Compositing: Shamsher Ali, Moomal, Rajan Singh
Prototyping: Studio Raqs
Vai Translation Service: Migration Translators, Sydney
Architects: Beyond Design, London
Fabrication: Satis & Fy, Frankfurt
Technical Coordination: Markus Berger/Francesco Elsing, Frankfurt
Special Thanks – Jane Hamlyn, London; Ivana Franke, Berlin/Zagreb; Julian Gabriel Richter, Frankfurt and Piers Kelly, Faculty of Humanities, University of New England, Sydney
Acknowledgement: Jenny Xu Haoyu, Hangzhou; Aarushi Surana, Delhi and Pigeon the Cat
Posthumous Acknowledgement: Hansa Mehta, delegate from India to the United Nations Human Rights Commission, 1947-1948; Momolu Duwalu Bukele, deviser of the Vai syllabary, who saw the characters in a dream, sometime in 1833
Photo Credit: Jens Gerber