The Last International
Installation with banners, screens, and trees, projections, symposium, reading performance and multiple performer actions
Performed and Exhibited at Performa Festival, New York (2013)
Collaboration in scenography, choreography and performance with Zuleikha Chaudhuri
Performers: Umang Bhattacharya, Gagandeep Singh, Himali Singh Soin, along with Raqs, and eight symposium participants from New York city.
Video Editing: Rajan Singh
Drummer: Ravi Makhija
Raqs play close, while seeing far. "The Last International" is a conduit to reach the future and its freedom, which is already present in our time as its biggest public secret — a world beyond Capital. Some challenging companions are found for this journey: a robot who ruminates on her sub-routine, a rhinoceros who has surfaced from the Mediterranean after 400 years and has started playing truant with our sense of time and history, a Yaksha and Yakshi and their sudden passionate interest in the mathematics of cacti, some incomplete and stunted flying machines, a bicycle resting quietly at the bottom of a serene blue river, and a miraculous deep sea diver who refuses to leave the suit that he wore when he learned diving.
"The Last International" responds to them in the form of a wager, by putting out a call for reflection and action, by becoming the means towards the 'here and now' realization of a 'materialist pantheism'- a recognition of the spirit that sparks an electric current through 'everybody', 'somebody', 'nobody', even antibodies. It is an episode in the conversation that all the people of the planet are having with each other, with their ancestors, with their imagined descendants, even with their unrealized desires.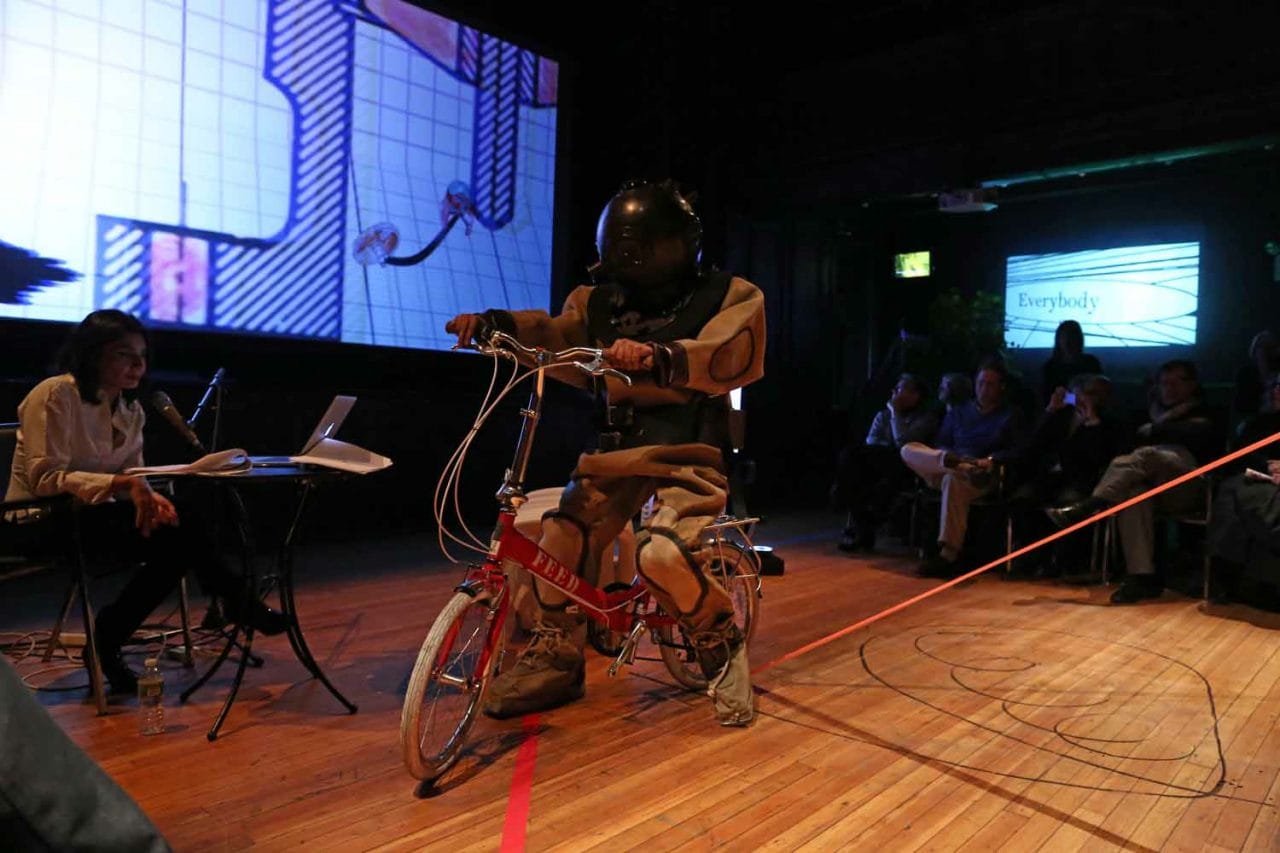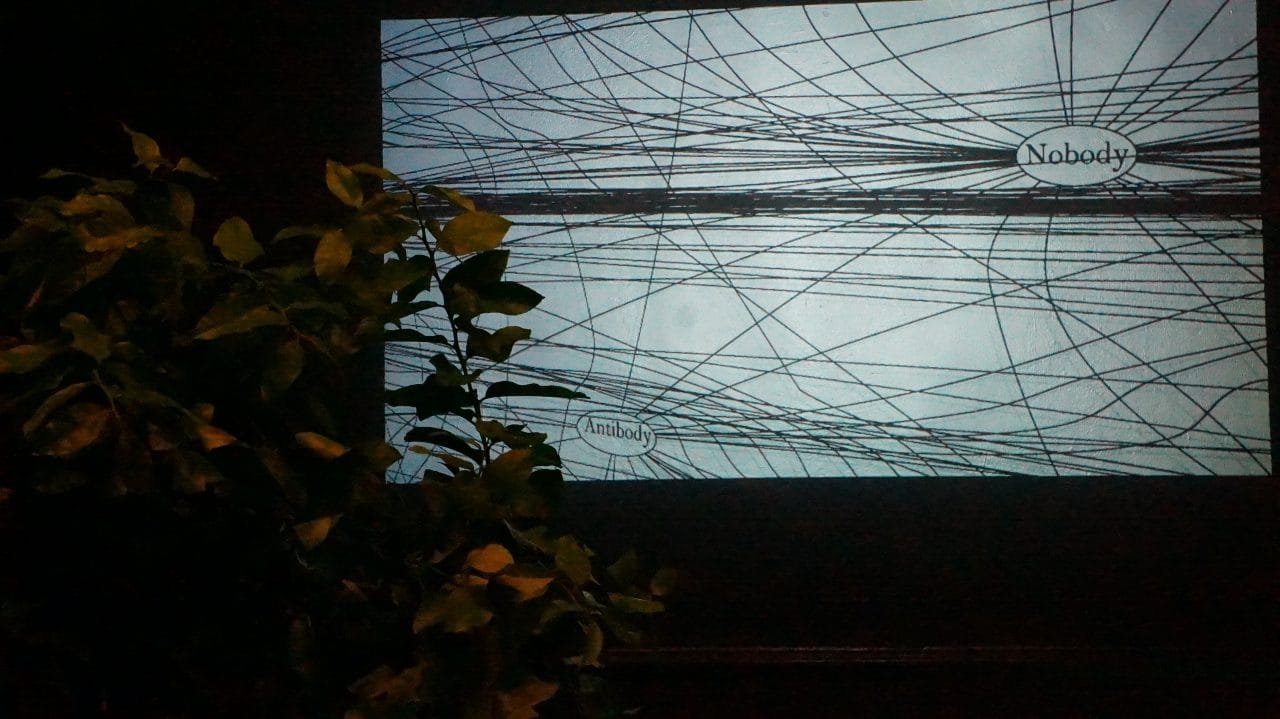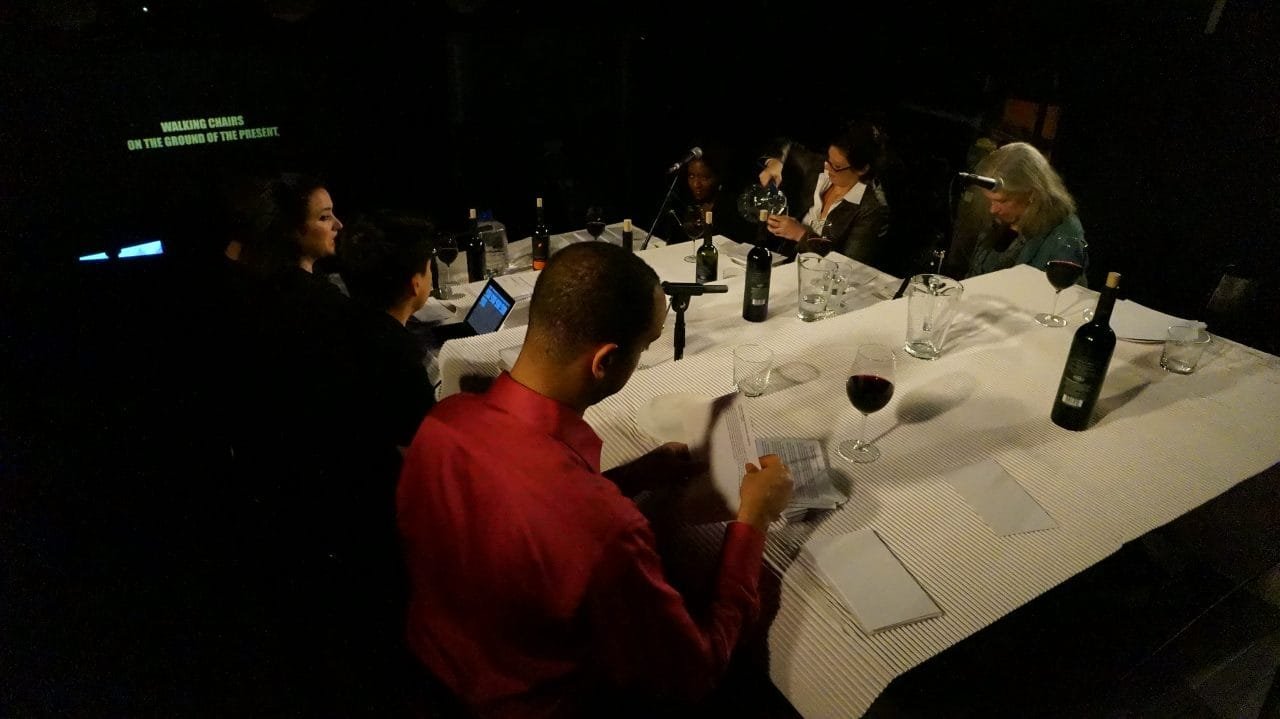 Three Meetings That May Have Happened, Underwater or Mid-Air
Wallpaper, cutouts of brushed steel, glass, photographs, documents. Dimensions variable
A robot tumbles forth from the future, a deep sea diver dives into the abyss of doubt, a bicycle wheel turns the inevitable away, cacti count to infinity, a rhinoceros transgresses histories while a fabled swan discriminates (as they are supposed to) between the ocean of history and the nectar ofpossibilities, and the Yaksha and the Yakshi look on, caught mid-sentence, in the loop of anotherriddle. A telegram is on its way. This is how the first gatherings of the Last International make their presence felt.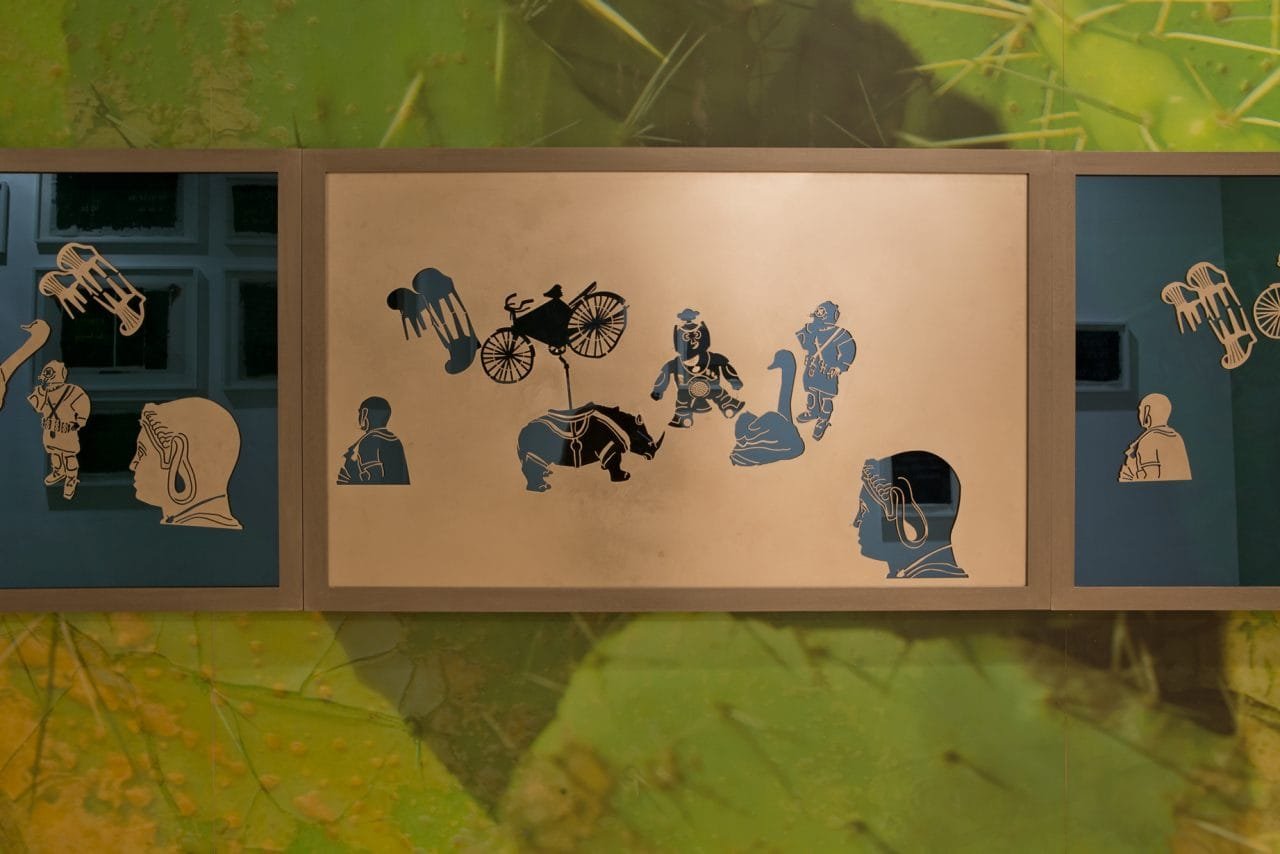 The site of descent is what it's really all about, isn't it?
Where and when to dive into the thick of things?
How much pressure to sustain?
How much ballast to offload?
How much, or how little oxygen, to take on board?
The best thing to do is to identify a rift, some place
where tectonic forces are hard at work and play.
Where things are hot and thick and close. Signs of
volatility mean signs of life.
The rift you choose, chooses your questions, throws
them back at you like a submarine eruption. There
is no good time to dive; there is no time that is not
suitable. Tomorrow is not better than today, the past
was not better than the present. The future is as good
as your next dive. Now is as good as ever.
Take a deep breath.

– 003. Asamayavali/Untimely Calendar, 2014.