Proverbs | 2011
1. Money Talks But Does Not Remember, Time Stops But Does Not Die, Power Surges But Does Not Endure:
Cured MDF, LED lights, wooden frame, lighting sequencer (244 x 122 x 8 cm each)
2. Memory Fades But Does Not Forgive, Laughter Echoes But Does Not Answer:
Aluminum composite panel, LED lights, metal frame, lighting sequencer (183 x 92 x 8 cm each)
3. Emotions Surge But Do Not Count: Acrylic, LED lights, metal frame, lighting sequencer (183 x 122 x 8 cm)
"Proverbs" is a series of textual sculptures that express a set of ambiguities about transactions and relationships. Money, Power, Time, Emotion, Regret, Laughter, Memory are the first set of key concepts. These are the scaffolding on which a set of concrete thoughts is built, which, like proverbs, can act as the currency of conversation. Each "proverb" is a frieze made out of text incised on to a horizontal plane. The proverbs are activated by fluctuations of an electrical signal that illuminate different configurations of the words in the text. Each configuration yields a terse new sense, sometimes contrarian, sometimes tangential, always precise. Light dances across the words, the proverbs change, meaning multiplies.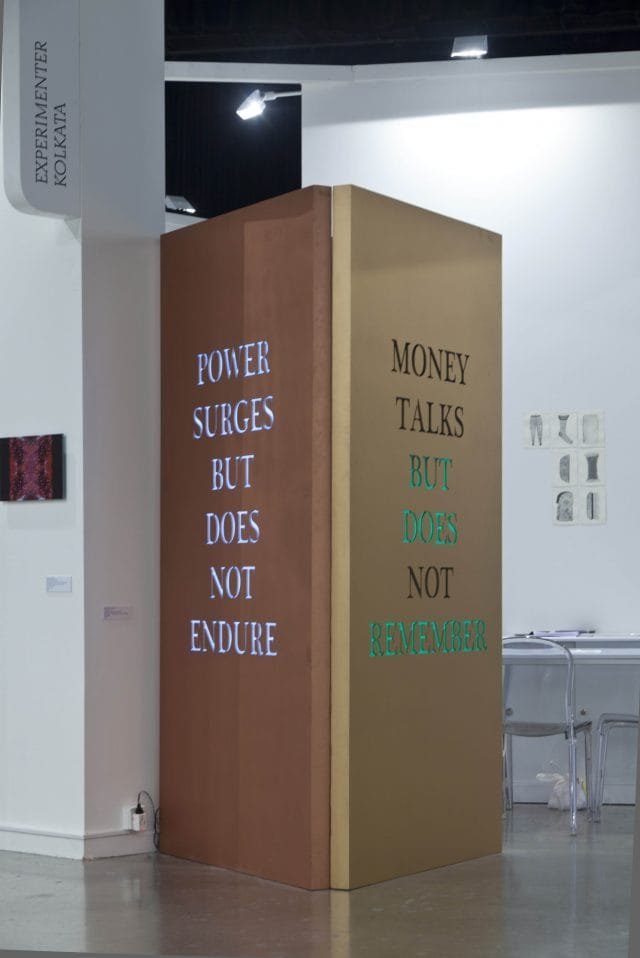 Surjection, Art Gallery of York University, Toronto (2011);
Lado A Lado (India – Side by Side);
Rio de Janeiro and Sao Paulo (2012)